Introduction:

I first came to Solovetsky archipelago back in 1999, without knowing anything about this place but one fact that the first concentration camp of Soviet Union's Gulag system was there from early twenties up to 1939. My grandmother used to scare me with its name when I would come home from elementary school with yet another political anecdote about Brezshnev. I fell in love with the islands and kept returning there every two or three years.

From the book "Solovetsky Monastery":
"Solovetsky archipelago is formed by the compact group of islands located near the entrance to Onega Bay in south-western part of the White Sea (Northern Russia).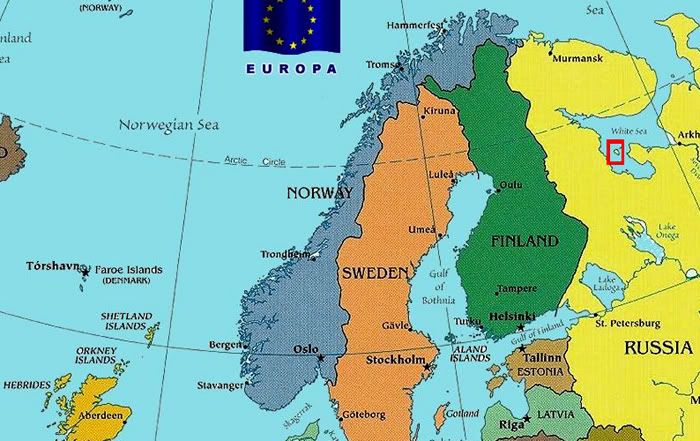 Besides many small islands there are six relatively big islands, 347 square kilometers all together. The Big Solovetsky Island is the biggest among them, 247 square kilometers. East off it lies Anzer island (47 square kilometers), Big Muksalma (17,6 square km) and Small Muksalma (0, 6 square km). West off it lies Big Zayatsky and Small Zayatsky islands, no more then one square km altogether. From October to May Islands are covered with almost one meter of snow that shuts down island's roads and makes remote parts of the archipelago really hard to get to."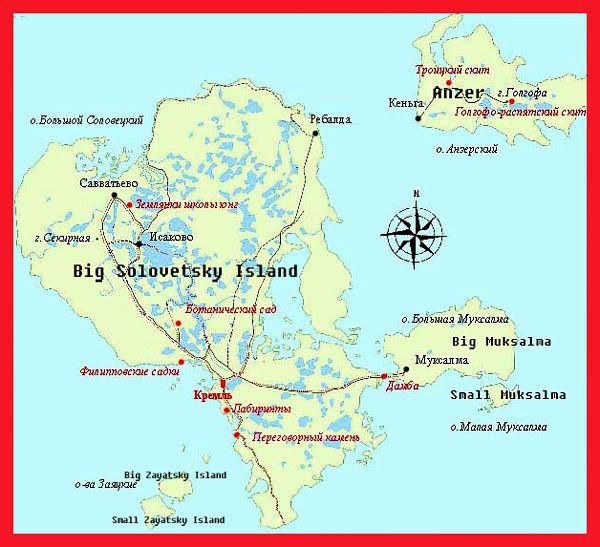 From Alexander Martynov's book "Ancient trails of Solovetsky Islands":

"Archeological sights of Solovetsky islands are unique. Ancient culture is represented here
by remains of tribal resting places and workshops dated as far as V-I millenniums b.c. There are also ancient temples, and burial grounds".

Labyrinths on the Big Zayatsky Island in White Sea, Russia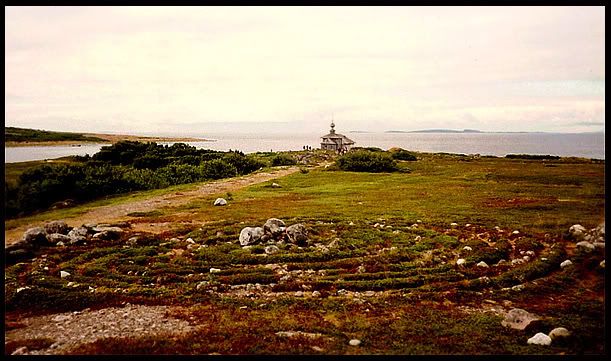 (photo by A. Budovsky, 1999)

From the book "Solovetsky Monastery":
"…Neolithic monuments on the island are dated by the third-second millennium before Christ, and are formed in shape of labyrinths, piles of stones of artificial origin, burial mounds (barrows) and stone lay outs in shape of pyramids, fences, crosses and other types. There are a lot of those on the slopes of famous Signal Hill. You can find here 14 labyrinths, more then 600 burial mounds, two dolmens and other ancient stone constructions. Mysterious labyrinths always attract the biggest attention – stone lay outs in shape of spiral, form of a circle or oval, not so high from the ground, with a diameter from 3 to 20 meters.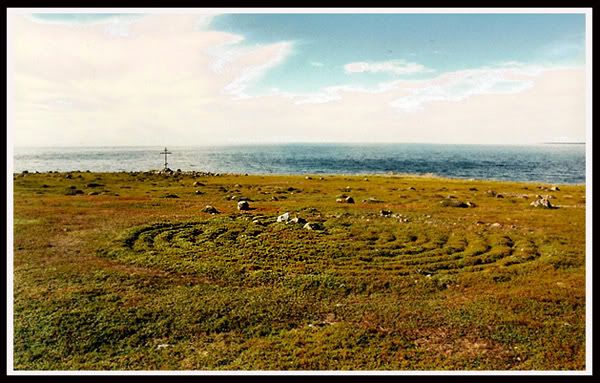 (photos by A. Budovsky, 1999)
Usually, labyrinths have entrance and exit in one place, so following one direction you can reach the center of the labyrinth, and then, without crossing the stone border you can come back the same way you arrived.


(photos by A. Budovsky, 2006)
Scientists that studied these things have different approaches to the question "Why labyrinth were made and what purpose they served?" Contemporary researchers Kuratov and Martynov found out that entrances to the labyrinths have different orientation in space and are always near stone burial mounds, dolmens and such:


(photos by A. Budovsky, 2006)

Stone burial mounds are often formed from boulder embankments in shape of semicircles or semi ovals, approximately one meter high: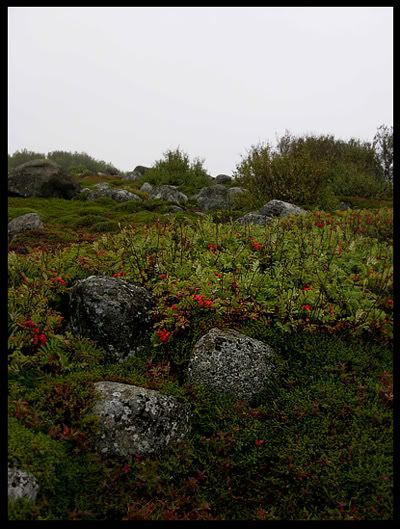 (2006)

In some of them ancient graves were found. Scientists assume that pagan heathens (temples) were here as well:


(2006)

Ethnic affiliation of the people that visited the islands of the Solovetsky archipelago in ancient times is a complicated question for science. Only recently, after the seal figure made of flint was discovered on the Small Zayatsky Island it was accepted that those people belonged to saam tribes that leaved on the White Sea coasts. During the times when those people visited the islands climate was different – it was much warmer and the sea level was much higher."


(2006)

When I visited the Islands in 2003 I was lucky enough to be a guest in Alexander Martynov's house. Alexander leaves and works on the islands from 1978. In 2006 I bought his book "Ancient trails of Solovetsky Islands" that was released the same year. Book is dedicated to Neolithic and medieval archeological sights of the islands – stopping places from Mesolithic and Neolithic times, temples stone labyrinths, and burial mounds.

From Martynov's book "Ancient trails of Solovetsky Islands":

"...By definition of professor Kuratov, labyrinths on the Solovetsky Islands are the spiral shaped figures, it is a system of tangled passages, walls of which are laid out with boulders. Near 30 labyrinths of different size and form were discovered on the Solovetsky Islands during the last 100 years of research. Spiral that twists from left to right or from right to left is a foundation of most labyrinths. The "Horse Shoe" shape of the labyrinths depends on how many twists spiral has and on principal of the way it untwists with further transformation of its constitution. The amount of "horse shoes" formed by spiral and additional elements of construction provide different degrees figure complexity. Labyrinths are not very tall – about 40 centimeters high, they are often located on the ground right by the sea and covered with lichen, moss, heather, and small bushes. Labyrinths have no distinct orientation, their exits-entrances are pointed to south-east, south, south-west and west, most of the times to the sea. Labyrinths could be used not only as burial grounds for the tribes that lived along the White Sea, but for the tribal rituals as well. Here is the classification of labyrinths according to professor Kuratov: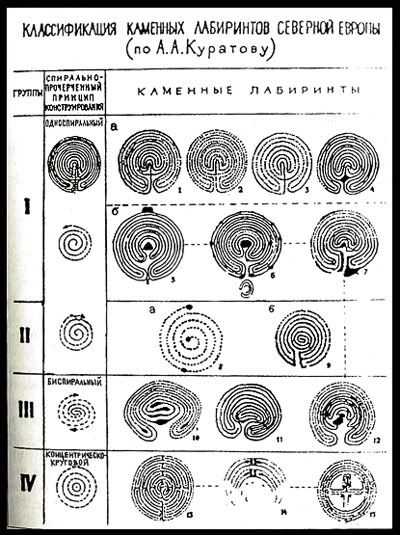 Labyrinths on cape Kostrishe on Big Solovetsky Island

Theme of the labyrinth, in many expressions, is known in time starting from the fourth millennium before Christ (ancient Babylon) up to nineteenth century (drawings on the rocks by the river Pinega), and in space from England to Australia, on all of the continents but Antarctica. Labyrinths on the cape Kostrishe on the Big Solovetsky Island were first described by archeologist Nikolai Vinogradov in 1927, in his work "Solovetsky Labyrinths". Vinogradov was held in Solovetsky concentration camp and was the first person who started exploration and research of archeological sights of the archipelago.


(photo from the camp arhcives)

That is how Vinogadov described cape Kostrishe: "This cape is pretty low, barren, and pebbly, covered with sand and boulders brought by the sea. Capes cover is not stable." May be these are the reasons why almost all the labyrinths on the cape that were described by Vinogradov in 1927 are gone now. There is only one labyrinth remains that was marked as number one on Vinogradov's map, it is called "Big Babylon". All the rest of the labyrinths from number 2 to 15th disappeared without a trace." Vinogradov also was one of the first who tried to answer the question why labyrinths were built. He thought that "labyrinths are Savio – the city of the dead, place where souls of the ancestors are". According to him, labyrinths were built with one entrance and system of tangled passages for one purpose – so the soul would get lost inside and would not come back to the world of living. To prevent the unexpected return of the dead person, piles of stones were put around the labyrinth from three sides, and small labyrinth was usually created near the entrance to the bigger one. Besides that labyrinths also served as a places for sacrifices in honor of the dead ancestors."

…."Everybody who studies ancient culture knows about the theory of "Three Worlds", according to which ancient people thought that Universe is separated by three parts. Unfriendly Lower World, where souls of people were going after death, Middle World – the place we live in, and Upper World of stars, clouds, Sun and Moon, where are Gods that help people live. If northern labyrinths are located on the border of the Lower and Middle Worlds, hence labyrinths in ancient people's minds were symbolizing Lower World where souls of the dead would get tangled up and stay there forever".

Another researcher, Gurina, presented different approach years later. She noticed that all of the labyrinths are located by the sea, on the capes used for fishing and hunting sea animals (in the past and even now). She also pointed out that some of the labyrinths do resemble device for fishing called "zakol" . Judging by this she decided that labyrinths were used for rituals connected with cult- magic that was supposed to provide success in fishing and hunting.
Big Babylon:


(1999)

Photo taken from the same point, seven years later: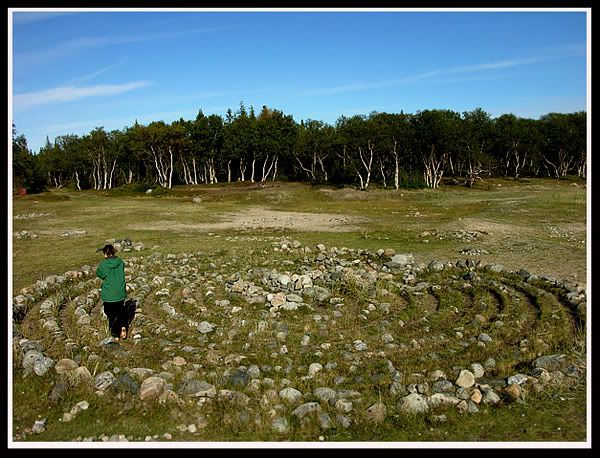 (2006)

View towards the sea: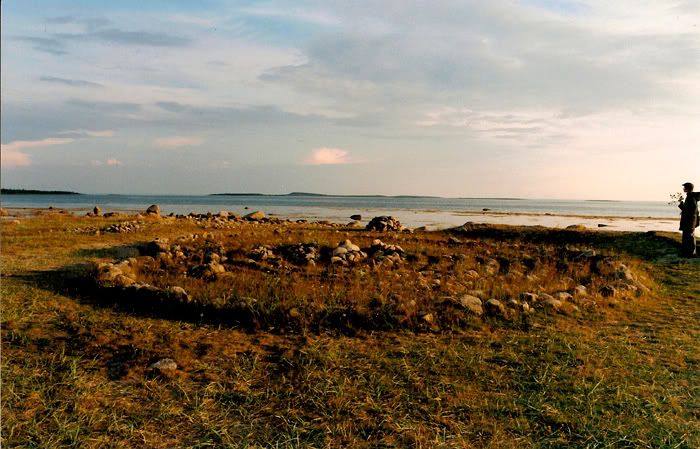 (2003)


(2006)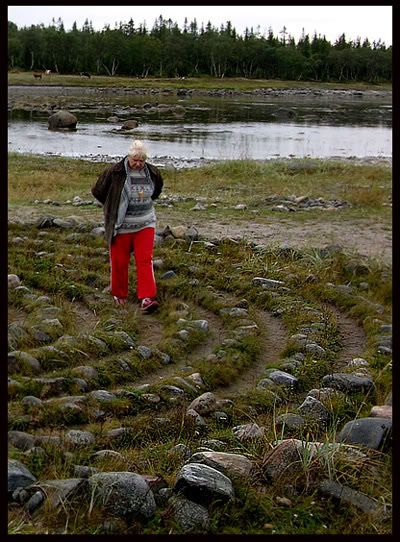 (2006)


(2006)
Near "Big Babylon" there is a smaller labyrinth which is not mentioned in Martynov's book for some reason. May be it is a contemporary reconstruction of the labyrinth that was under number 2 in Vinogradov's map and it was created quite recently. Anyway, it was there back in 1999 when I came to the Islands for the first time:


(1999)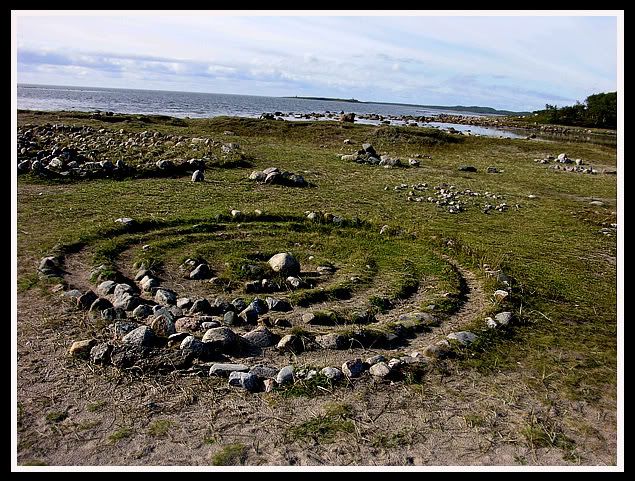 (2006)

Images of Solovetsky labyrinths also can be seen in St-Petersburg, Russia, as graffiti's:



From Alexander Martynov's book "Ancient trails of Solovetsky Islands":

"…The idea of the labyrinth could appear in ancient people's minds while watching shaman's movement during the funeral ceremony. It was always a movement around the fire, shaman would do circles or… Spirals. While moving in ritual dance, shaman would show the way to the Lower World for the souls of the dead. Trajectory of that movement – the simplest round-spiral labyrinth -- first got into people's minds and later was imprinted in the stone. "